Welcome to 5th International Conference on Information and Communication Technologies
14-15 December 2013, Karachi, Pakistan
Platinum & Technology Sponsor
ICICT 2013 is pleased to announce HP as its Platinum sponsor and technology partner. This partnership is an effort to add value to education, technology and innovation. HP is known to apply talent, technology, and partnerships to achieve their vision of thriving communities.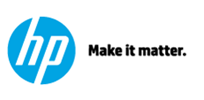 HP strives for a sustainable world by helping to improve the environmental performance of their customers, their supply chain, and their own operations. They give people the tools and solutions to achieve more with fewer resources and less waste.
HP believes that as one of the world's largest information technology companies, what it does and how it does it matters. HP aims to create a world that is sustainable, where people are thriving and the economy is robust.
Moreover, HP promotes responsible practices in our supply chain, respect human rights, foster ethical behavior, and strive for a workplace where all our employees can flourish.
Attend HP's booth at ICICT to take advantage of the discount packages they are offering especially for the IBA students!
Visit http://www8.hp.com/pk/en/default.html for more information.