Welcome to 5th International Conference on Information and Communication Technologies
14-15 December 2013, Karachi, Pakistan
Super Platinum Sponsor
Haseen Habib Trading Private Ltd is one of the certified fire protection & safety Equipment Company in Pakistan. They are the largest Importer & stockist in the country for Fire Fighting & Safety Equipment, Fire Alarm, Detection and Suppression Systems.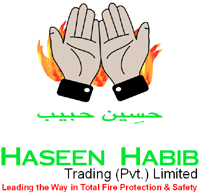 Their mission is the Protection of Lives & Property, by providing appropriate, efficient and cost effective solutions and quality equipment in the field of Fire Fighting & Safety to our customers supported by installation of equipment & training. Their products include fire alarm systems, suppression systems, sprinkler systems, gas detection systems amongst several others.
HASEEN HABIB is specialized in fire protection & safety of high risk industry including Power Plants, Oil and Gas Field & Terminals, Chemical and Fertilizer Plants. Other industries they serve are Textile, Sugar and Automobile. Other than this they also provide fire protections of High rise building, Hotels, Telecommunication, Commercial Buildings, Banks and Schools.
Visit http://www.haseenhabib.com/ for more information.